So, I think it is time to point out that Asuka has flown under the radar and become the new Goldberg, only she's hot!
Asuka has been wrestling in NXT for 9 months now. She has been wrestling on tour, house shows, tv, Takeover events and she has never lost. She could very well be approaching 100+ wins (36 weeks X 3 wins per week give or take a couple dozen wins) and is currently the reigning defending NXT women's champion.
At this point, SHE is the WWE employee that holds "THE streak".
Here is the difference. She is legit. Not that I necessarily care. She looks like a badass and in wwe that is all that matters. However, it sure doesn't hurt one little bit that she is likely the most skilled wrestler in the women's division on any roster in the world.
The question going forward is, who is going to break the streak? Is there anyone worthy of it if not Bayley in a rematch?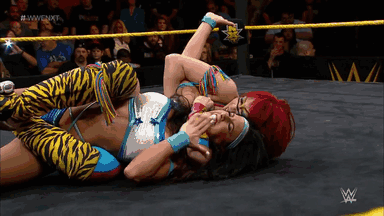 PS . Finn Balor is not the only one who can bring out the demon.


Read more: http://ukwrestlingfans.freeforums.net/thread/345/asuka#ixzz4Bi5uXawA