Known Start
The start of the game should feel very familiar to Sim-City fans. The beginning is a road, leading nowhere, waiting to be expanded with Residential, Commercail or Industrial areas. At the beginning, your options are limited. Smaller houses, small shops and mostly factories are dominating the early stages of your city. Yet, where people live and work, electricity and running water are essential. Contrary to "SimCity", you have to build your water and sewage system yourself.
As the game progresses, you thrive on expanding and developing your city and unlocking new functions with increasing population numbers. A larger population might cry for Fire Departments and Police for instance, and as dutiful mayor, you can´t wait to oblige. Natural resources, Island and additional building space can be found or bought to really maximize your urge to build and optimize.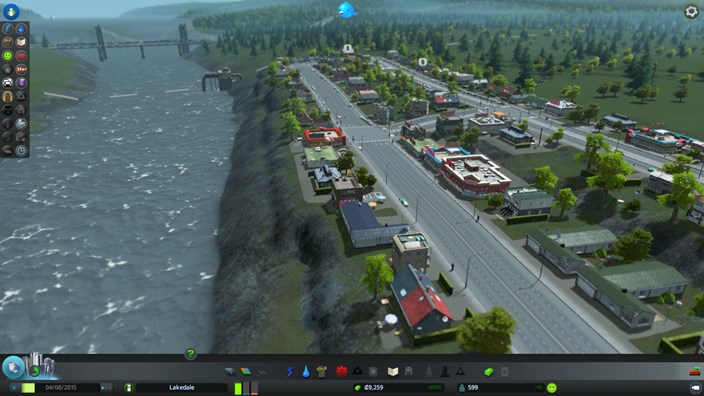 Tactics instead of bancruptcy
The more people are inhabiting your city, the louder the cry for safety, healthcare and education gets. So, you should pay attention to a balanced distribution of said services to avoid running your own economy into the ground. A modular building, as in outfitting a police station with more cells or police cars is not possible in "Cities: Skylines". When a facility is reaching it´s breaking point, you are faced with the option of increasing it´s budget or simply building a second facility to share the workload.
Later in the game, money can become somewhat of an afterthought. Despite continuous investments into your city, the wallet stays well fed. Herein lies one of the rare flaws of the game and one point to be nudged to avoid losing the long term fun. The difficulty setting can be raised via modding already, still it would be nice to face more economic challenges.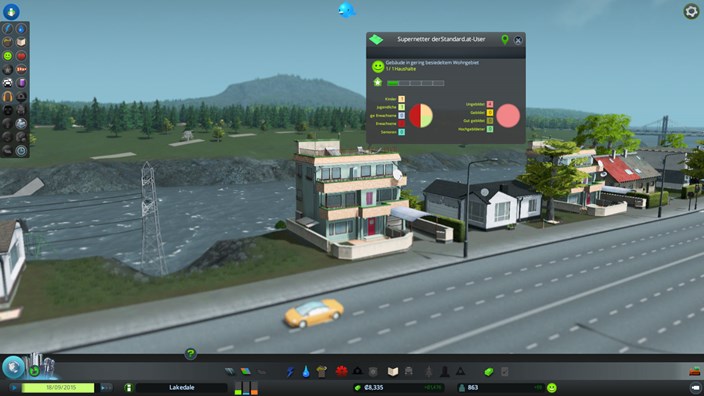 Perfect Traffic-planning
Since the makers of "Cities:Skylines" are already known for their traffic-sim series "Cities in Motion", it´s no surprise that the building of street systems and public transportation has been almost perfected. Laying of roads works at a mouseclick, still it is possible to construct very complex street systems, which turns out to be quite necessary later in the game to avoid traffic buildup and chaos.
Counteracting the traffic situation is also possible by expanding the public bus and metro network. This impacts citizens preference of taking the car to work or the public services. While, at the start, it does not matter much where streets are laid, after a while, a well thought out concept of roads and public transports is necessary to prevent frequent traffic jams. The depth in creating the public transportation is definately a plus to the game. A clear plan and some fine tuning is needed to keep the traffic flowing.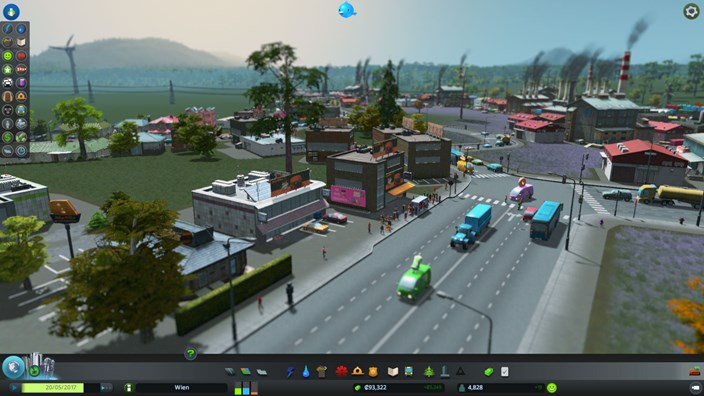 You can always go bigger
This is the foundation for a very enjoyable and definately realistic game, which is exactly what the last "SimCity" iteration, despite a flood of features, didn´t quite deliver. And there´s another point where "Cities: Skylines" can show up: size. While EA gave you a total of 4 square kilometers, "Cities" delivers with a total of 36 square kilometers, which can be expanded to close to 100 via mods.
With that much space, a total population of one million people is possible. While those might not be the biggest of metropoli, it´s a much more realistic scaling as with the smaller map "SimCity" provided. However, to reach that number, a lot of work is definately necessary. "Skylines"´ citizens are much more vocal and sensitive to sickness, pollution and noise than their "SimCity" counterparts. If the needs of the population are not met over a longer timeframe, houses, shops and businesses are prone to be abandoned. Here, a good balance was found, even if the maximum population is a bit low. A mod to counteract that is already in the works, according to the community.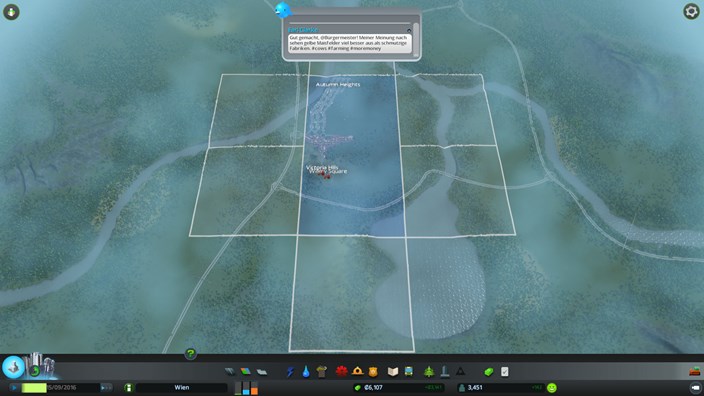 Another new feature, compared to other City-Sims is the ability to create your own districts. These aid in keeping tabs on your city for one, but also enable you to create specific rulings for specific districts. With the right tactic, you can so raise the satisfaction in one district or lower crime and the danger of fires in another. (For example, a ban on smoking in a district dedicated to lumber industry helps significantly in reducing the danger of your businesses going up in flames.)
However, one slight flaw is uncovered there: Even if you specify your districts to develop differently, there is no optical difference between ghettos and rich districts. Your citizens live in halfway decent settlements and are all of the upper middle class. So, while your population will leave the city rather quick due to external nuisances, all districts will still develop the same appearance, even if that residential area was built next to factories or highways.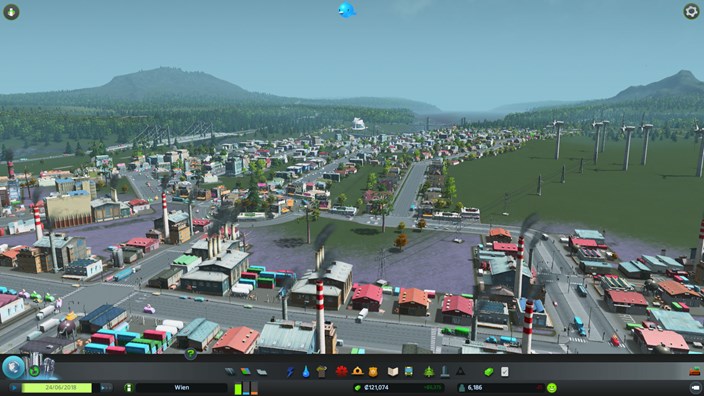 Different seasons, a day-night-cycle, multiplayer capabilites and natural disasters are still to be missed in "Cities: Skylines" compared to earlier Sims. However, those points are high on the priority list of the developers. Those are very present on Reddit and in their own discussion forums and have proven as good community-listeners, implementing good ideas and reacting to feedback much more than other companies are known to do.
The instant support of mods, straight from launch is also one guarantee of constant fresh content to be coming in and was one of the big aims of the developers from the get go. Also, a "Always-on" internet connection, as was necessary with "SimCity" is not required.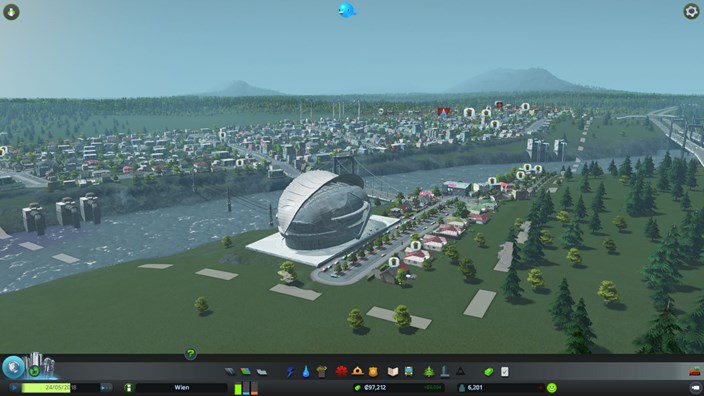 Graphics impress
Speaking of the graphics, there is little to critizise. The cities look alive, the day-to-day activities of individual citizens can be followed by a zoom funktion and unique buildings and parks provide your own creation with additional beauty and recognizeability.
Slight criticism falls upon the slight optical monotonicity. Cars and buildings are prone to look the same . However, future patches have been promised to remedy this, mods are already available for more diversity.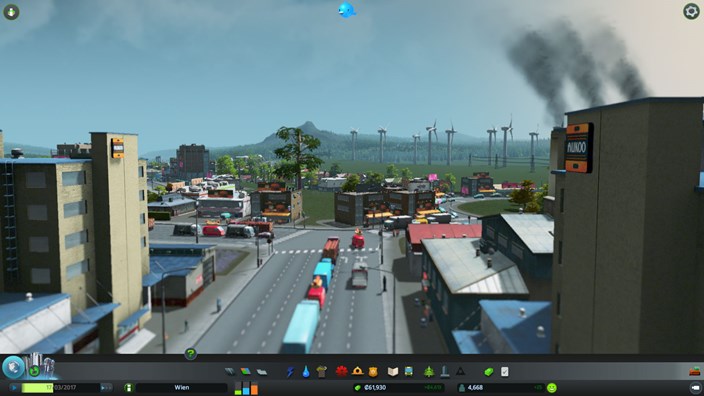 Despite the game demanding increasing resources with increasing map size, there have been no performance-flaws during my gameplay. Even on highest graphics settings and a city with more than 30.000 citizens, the framerate stayed at a constant 50 frames per second. Complaints from players with much bigger cities are absent from the support-boards and from reddit as well. The recommended hardware settings also show that the game is not too demanding.
Conclusion
Much has been done right from the start with "Cities: Skylines", but there is still a lot of potential to be discovered. Traffic- and City-planning can be mentioned as a big plus and, especially the former, as challenging. Due to the size of the cities, the demanding inhabitants and the unlockable functions as the game progresses, both vets and newbies to the city-sim game should be equally entertained. A flaw exisits in the easy economy, the sometimes too similar optics, especially with differently developing districts and the lack of a multiplayer mode. The missing day-night cycle and seasons are to be overlooked for now - mostly because improvement on this and some other points of criticism has already been promised by developers. With the already existing and constantly growing modding community, a constant influx of new elements is also a given.
Is "Cities: Skylines" better than "SimCity" at their respective launch dates? Well, even through the minor flaws, the small developer team of Colossal Order (not even 10 people) created one deciding plus: A foundation, that crucial foundation that IS better, creates more fun in all the major aspects, provides more depth and proves challenging to players. In other aspects, EA and Maxis still hold a slight edge. However for a price of just under 30 Euros, you get a game that, also in part thanks to the open-arms approach to the modding community, has all the tools to grab that genre-throne and keep it for the foreseeable future.